Peter, Nathan, and Per drove up to Nelson Cove for a last-chance-in-2003 trip. It was fairly could.
We took along Spike, our new cat. Unfortunately, he rather freaked out.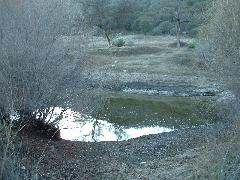 Frog pond
Sunday morning had frost on the ground.
We hiked up the road and into the bush, by the path loading to the "cat trail".
We crossed the Southern property boundary, and hiked South, then curiving round to the river.
We then turned around and hiked back.