Per and Nathan drove up for a short trip June 7-8.
On arrival, we found the batteries low, so Per spent some time wiring the solar panels. Afterwards we went for a walk/swim to the Upper Falls.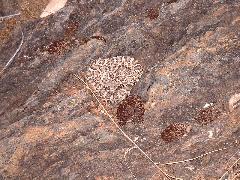 Baby rattler
The next morning we put together the shep. We got very frustrated trying to get the plastic pieces together, but then we checked the instructions ... Once we figured out the trick, it went pretty smoothly.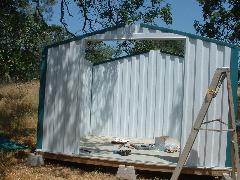 Shed without roof
The completed shed.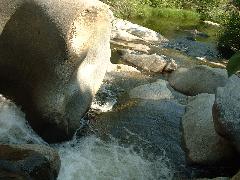 Lower falls
A little later with Jim and Peter. Per, Nathan, and Jim drove out in the Ford Wednesday June 18. Then Peter joined us next day, with the Honda. We drove to Mariposa for birthday dinner with Jim. Afterwards, Jim drove home in the Honda, while the rest of us stated one more day.
These pictures are from a long shallow pool between the turtle pond and the lower falls.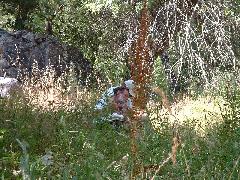 Jim and Peter