The 20th convention of the International Association of Gay Square Dance Clubs was named Anchors Aweigh with a Half-Sashay and held at the Sharaton San Diego Hotel & Marina July 3-6.
In addition to these pictures, there are separate pages for Fun Badge Harbor Cruise, and the Munchkin (short people) tip.
Phoenix sign-up
Badge makers
Bathing Beauties
This was Nathan's 10th convention, so at the banquet he received his 10 Year medallion.
Bob Young, Nathan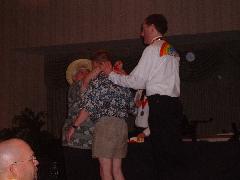 Ett, Nathan, Karl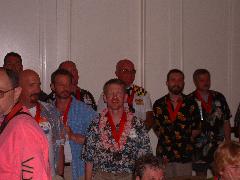 Medallion recipients